A massive Christmas morning explosion in downtown Nashville has caused extensive damage and knocked out phone and internet communications throughout Middle Tennessee.
At least three individuals were injured but no fatalities have been reported.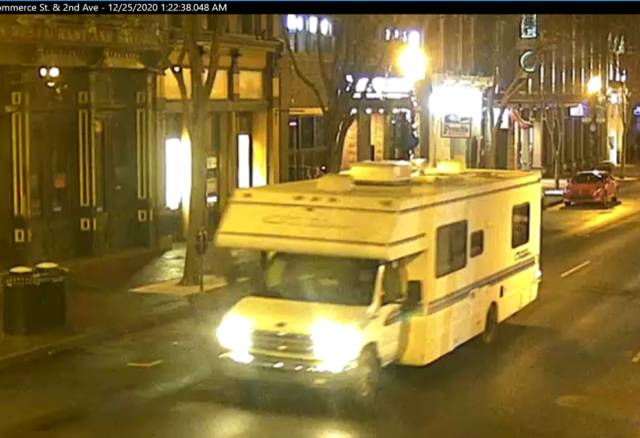 Several private individuals in the Metro Nashville area told The Tennessee Star Friday that their mobile service was down in the aftermath of the bombing. There were unconfirmed reports that at least one major mobile phone carrier had major outages in the area.
According to a press release on the Metro Nashville Government's website, members of the Metro Nashville Police Department, the FBI, and the ATF are investigating today's intentional 6:30 a.m. explosion of an RV outside 166 Second Avenue North. Authorities have restricted vehicle and pedestrian traffic downtown as the investigation continues.
"Officers responded to shots fired call on Second Avenue at approximately 5:30 a.m.  The department's Hazardous Devices Unit was called to check the RV," according to the press release.
"As those officers were en route, the vehicle exploded outside an AT&T transmission building.  Multiple buildings on Second Avenue were damaged, some extensively."
Nashville Fire Department spokesman Joseph Pleasant said at a press conference Friday that authorities transported three people to area hospitals, but none in critical condition.
In the hours after the explosion, a video was posted on Twitter from what appears to be a recording of the bombing from a nearby security camera. Audio of a loudspeaker warning people to "evacuate the scene immediately" can be heard echoing in the street moments before the blast. The recording is disrupted, but the camera eventually resets showing the aftermath of the explosion.
WATCH: Bomb explodes in downtown Nashville after loudspeaker warns people to evacuate pic.twitter.com/B57Csckqs9

— BNO News (@BNONews) December 25, 2020
Nashville radio personality Brian Wilson tweeted Friday that eyewitnesses saw an older motorhome.
"The female computerized voice WARNING coming from [the] RV started one hour before [the] explosion. Eyewitnesses left when [the] countdown reached 11 minutes."
Eyewitness saw a older motor home … clean. The female computerized voice WARNING coming from RV started one hour before explosion. Eyewitness left when countdown reach 11 minutes.

— Brian Wilson (@BrianWilson997) December 25, 2020
The Nashville Fire Department posted several photos of the scene.
Some photos showing damage on 2nd Ave North as multiple agencies continue to work and investigate an explosion from earlier this morning. pic.twitter.com/0cWA3oUCDl

— Nashville Fire Dept (@NashvilleFD) December 25, 2020
The Tennessean reported that the widespread outage of AT&T internet and phone service began around noon. 911 phone systems were down in Williamson and Sumner counties as well as the cities of LaVergne and Mt. Juliet.
Nashville authorities ask anyone with information about this case to contact Crime Stoppers at 615-742-7463.
– – –
Chris Butler is an investigative journalist at The Tennessee Star. Follow Chris on Facebook. Email tips to [email protected]