The Metropolitan Nashville Police Department (MNPD) Sunday morning confirmed to The Tennessee Star that Anthony Quinn Warner is officially under investigation in the Christmas morning explosion that rocked downtown Nashville, injuring three people.
"That person is under investigation," Don Aaron, MNPD Public Affairs Manager said by email.
Aaron did not confirm whether Warner is officially a person of interest or suspect.
Warner was first named by several media outlets Saturday afternoon as "a person of interest," a step further than law enforcement has done on the record as of press time.
"Multiple sources tell us that Anthony Quinn Warner, a Nashville area resident, had a similar make and model RV," Jeff Pegues said on Twitter.
…#exclusive @CBSNews has learned the name of a person of interest tied to the explosion that rocked #Nashville on #Christmas Day. Multiple sources tell us that Anthony Quinn Warner, a Nashville area resident, had a similar make and model RV.

— Jeff Pegues (@jeffpeguescbs) December 26, 2020
Warner, 63, is unmarried and has no children, reportedly worked in the IT industry. At one point, he held a license as an alarm contractor, and specialized in making burglar alarms. A man of the same age and with the same name was convicted on a felony charge of possessing a controlled substance in Davidson County, Tennessee in the late 1970's.
Catherine Herridge of CBS reported Saturday afternoon that authorities' "leading theory" is that Warner was killed in the explosion, which allegedly originated from a recreational vehicle parked on Second Avenue in Nashville.
#Nashville Law enforcement sources tell @CBSNews leading theory is suspect may have been killed in Nashville explosion. DNA tests on remains found at scene are being conducted to determine if they belong to suspect or someone else + Fed agents searching home person of interest.

— Catherine Herridge (@CBS_Herridge) December 26, 2020
Federal agents searched Warner's home in Antioch, Tennessee Saturday. Google Earth images of the address show a recreational vehicle similar to the one that exploded in Nashville parked on the property.
But the home no longer belongs to Warner.
In a mysterious twist, multiple news outlets have confirmed that Warner gifted two homes, including the one searched by law enforcement Saturday, to a Los Angeles woman.
"Warner gave a $160,000 house in November 2020 for free to Michelle Swing, who is a resident of South Flower Street in Los Angeles," according to International Business Times. "The ownership of another house had already been transferred to her by Warner in the previous year."
Swing reportedly told Daily Mail she had no idea she was the owner of the property.
"In the state of Tennessee you can deed property to someone else without their consent or their signature or anything,' she reportedly said. "I didn't even buy the house he just deeded it over to me without my knowledge. So this all very weird to me, that's about all I can say."
In January 2019, Warner reportedly gifted a $249,000 home in the same town to Swing. The home reportedly belonged to his father, Charles B. "Popeye" Warner, who died in 2011, according to an online obituary. The home was then transferred to his brother Steve Warner, who reportedly died of cancer in 2018. He is survived by a sister.
Warner owned the property for less than five months before giving it to Swing.
Asked whether she had ever met Warner, Swing declined to answer.
"I've been told to direct everything else to FBI," she reportedly said.
Several news outlets  interviewed some of Warner's neighbors, who confirmed that he mostly kept to himself.
Tony Rodriguez lived in the duplex searched by authorities Saturday, next door to Warner. He told The Washington Post that he had never spoken to Warner, and did not know his name. Rodriguez said that Warner posted "No Trespassing" signs on the property, particularly on the recreational vehicle that was allegedly used in the bombing. He confirmed that a computer motherboard was confiscated from Warner's home by investigators Saturday, and said that Warner would often tinker with an antenna above the home.
The Federal Bureau of Investigation (FBI) interviewed a top Nashville realtor about Warner on Saturday, according to News4.
"Nice guy. You know, he was a techie guy – don't mean anything negative about that. He would do this thing and leave. He didn't bother anybody. He did his thing and leave," Steve Fridrich reportedly said of Warner.
Fridrich contracted Warner to IT work for him over a period of years.
News4 reported that the FBI asked Fridrich if Warner was paranoid about 5G technology. Fridrich could not confirm.
The motive for the bombing that rocked downtown Nashville on Christmas morning remains unknown at press time.
But the explosion occurred outside a building owned by AT&T, causing significant damage and outages across Tennessee. The outages even caused Friday afternoon flights to be temporarily grounded at Nashville International Airport.
Nashville Mayor John Cooper described the bombing as an "infrastructure attack."
"Well, those of us in Nashville realize that on Second Avenue there is a big AT&T facility and the truck was parked adjacent to this large, historic AT&T facility, which happens to be in downtown Nashville, somewhat surprisingly," he told Margaret Brennan on CBS' "Face the Nation" Sunday morning.
"And to all of us locally, it feels like there has to be some connection with the AT&T facility and the site of the bombing," he continued. "You know, and that- that's just- that's a bit of just local insight because it's got to have something to do with the infrastructure."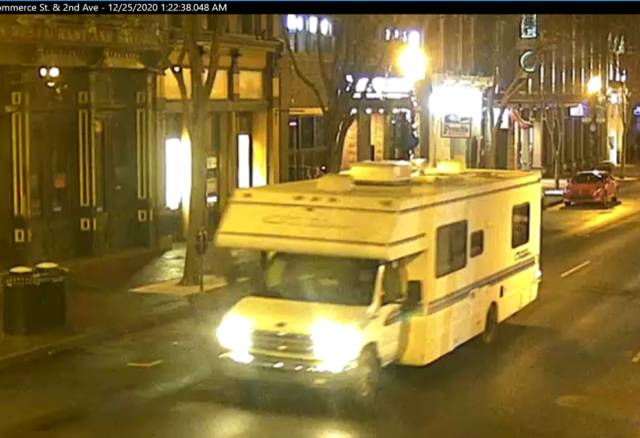 Significant to the investigation appears to be a warning played via loudspeaker in the 15 minutes leading up to the explosion.
Betsy Williams, owner of a building on Second Avenue, recalled the loudspeaker message in an interview with The Tennesseean.
"Evacuate now. There is a bomb. A bomb is in this vehicle and will explode," the message said, according to Williams.
Williams said she woke up around 4:30am to the sound of gunshots, which caused her to call the police.
Police responded to several shots fired calls, and noticed the suspicious recreational vehicle at around 6:00am. Shortly thereafter, the warning message began to play.
Six police officers are being hailed as heroes for their roles in evacuating residents near the scene of the explosion.
"Whoever did it did give fair warning," Williams reportedly said.
The vehicle exploded around 6:30am, while a bomb squad was en route.
– – –
Pete D'Abrosca is a contributor at The Tennessee Star and The Star News Network. Follow Pete on Twitter. Email tips to [email protected]